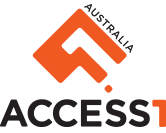 Secure solutions for tomorrow...today
INTERACTIVE
product guide
Access 1
With a team that possesses of 100 years of combined experience in construction, Access 1 has a proud history of delivering high quality products and solutions to meet our client's needs. Based out of Melbourne, Australia and with regional operations in Dubai, United Arab Emirates (MENA) and Muscat, Sultanate of Oman, Access 1 offers a full range of Security, Surveillance, Access Control and Asset Protection (miscellaneous metal and rubber fabrication) Products.
As part of our supply and installation services for Extra Low Voltage (ELV) products, the Access 1 Team works hard to ensure full integration with all systems across our client's site(s).
Our expert team of project engineers will also custom design and your fabricate metal and rubber requirements down to the last detail and ensure these products are installed following the strictest quality standards.
Our products are available via our own range or via exclusive distributorships with our global partners. In the Middle East we also fabricate locally (both steel and rubber), so that where required we can deliver products in a timely manner.
The A1C Difference
At Access 1 our dedication and experience ensures we offer our customers several key attributes including:
A comprehensive range of reliable products, produced using the strictest quality standards
The ability to provide expert advice, information and installation services where ultimately a complete 'one stop shop' is delivered.
Unsurpassed levels of service and reliability (pre and post-sale).
A sound reputation as a market leader, driven by our global network and ongoing investment in R&D.
Our Team
Our dedicated team of tertiary qualified Business Professionals, Engineers, Technicians, and Project Managers is highliy credentialed in the construction, facilities maintenance and asset management fields. Moreover, day-to-day our leadership team works hard to ensure our various business units delivers exceptional customers and stakeholder outcomes.
Ownership
Access 1 is proudly owned by people who play an active role in the quality of the outcomes it delivers and is guided by a highly motivated and competent leadership team. We have also worked hard to put the critical partnerships in place to secure the business's global future.